Ahad lepas, sempena cuti Hari Keputeraan Sultan Kedah...anak tadak dok rumah pengasuh, husband pulak pasang khemah.
Aku plan dengan ungu dan Shaz nk rabat bukit H kat taman semarak. Tp last minit, ungu kansel sbb demam. Takkan aku nk pi berdua ja dengan Shaz?
Bila tanya kawan2 lain dlm grup, Geng SP masing2 ada hal, x le join pi bukit H.
Sudahnya, abg Lan ajak join dia, Mejar Zaidi dan Zharif naik bukit Tokun.
Gulp....bukit Tokun? Kat BM?
Bila tanya husband, husband cakap, ok...bole. Teruih siap, cargas kat meeting point, kat Maybank Bertam.
Dari situ kami gerak dlm sebijik keta ke BM.
Ramainya orang masa sampai. But we manage to get parking close to hiking track. Bila dah turun keta, mmg yg nmpk mostly Chinese bawak family hiking dan bersenam. Less of Malay take opportunity to workout. *sigh*....me also previously like them...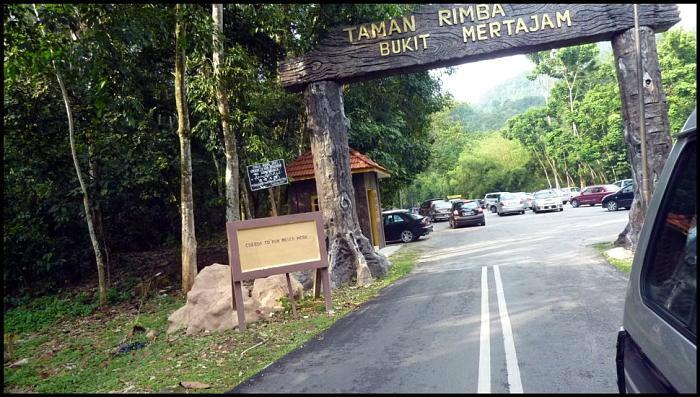 pic from gugel...lupa nk amik pic gerbang ni
We started our climbed at 10.05a.m. Normally, abg Lan said, it will take us about 45min. Remember that..."NORMALLY". But, when the they me together...of course it will not be normaly anymore. Hahahaha
We begin with little warm up and doa by Mejar Zaidi.
Seriously, I am not fit. I am lack of energy, lack of preparation. Not taking enuff karbo before hiking. Aku amik roti gardenia yg ada krim tu masa driving. And that's it.
After 10minutes, aku dah start dizzy. Dah rasa nk muntah. Rasa krim roti gardenia mcm dok menolak2 ja.
Mejar suruh abg Lan bwk beg aku. Sib baik abg Lan lenggang kangkung ja, x bawak apa pun.
Hihihihi...end up...aku muntah. Dan leoaih muntah tu rasa lega la sket.
Mcm aku kata, I am not fit. Bukit Tokun is no compare to Bukit H. Aku mmg x larat.
What Mejar did? I find 1 stick, ask me hold to and he hold another end. He pull me...hahahah.... aku kena heret.
Its really help. Thank you.






Banyak kali jugak kami stop sbb aku kena x larat. Hihihi
Masa aku rehat, dan lagi depa sok santai atas buai...isk isk isk
Kami teruskan perjalanan lagi...rasanya another quarter kot dgn jalan tar....huhuhuhu....jalan tar pun penat.
Stick yg Mejar bagi kat aku.
Abg Lan cakap 45 minit kan? We reached top after 1.5 hours....hihihi
Us... Mejar Zaidi, Zharif, me and Abg Lan
Kami turun ikut jalan tar.
Nasib baik x hiking ikut jalan tar. Kalo ikut tar, aku rasa mentally aku dah kalah....bila tgh jalan naik bukit straight sejauh mata memandang. Bukan mcm gunung jerai...belok2.
Thank you to all 3 heroes...taking me and babysit me while hiking. Hahaha....
Masa balik, singgah pekena mee kuah ketam dulu. Yummeh.
pic from gugel
TQ, Zharif...belanja kami mee kuah ketam ni. ^_^

XOXO